Click here to download P3 Financial Bulletin
Weekly Market Forecast: 30th April – 6th May 2018
The market had a good bullish move and ended positive for a fifth week in a row. The NIFTY closed at 10692.30 up 1.21% for the week, and up 5.72% for the month. The BANK NIFTY which had closed weaker last week, bounced back with a strong move and traded close to 1000 points in the week at 25394.60, up by 1.81%. The BSE Midcap index closed at 16917.17 up 0.70%, and BSE Small cap closed at 18239.96 up only 0.34%. The monthly trend for the broader Indian markets continues to be bullish. The next week market movement will be guided by results of another set of blue-chips viz. HDFC, Kotak Mahindra Bank, Dabur, HCL, Hero Moto, Adani Port, Vedanta, and Ambuja Cements.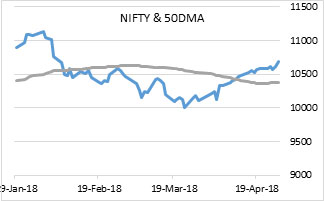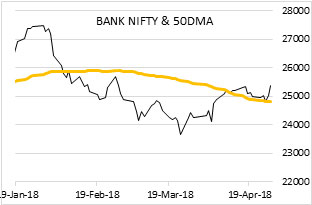 Volatility continued, the US bourses closed in RED for the week. Dow Jones closed at 24310.43 down 0.66% for the week. Both NASDAQ and S&P 500 closed marginally lower for the week at 7119.80 and 2669.9 respectively.
Both Gold & Silver corrected in the week. MCX Gold Mini futures closed at 31119 (31330 last week). MCX Silver Mini futures closed at 39009 down from 40497 in the previous week.
Indian Rupee (INR) closed weaker, successively, for the third week. USD/INR closed at 66.6550 on Friday, USD up 1.00% against INR.
Maruti-Suzuki Results: Maruti reported its Q4 FY18 results on Friday 27th April. Its revenue rose to INR21,166 crore up from INR 18,333 crore. The net profit rose 10 % YoY to INR 1,882 crore. This was lower compared to the Bloomberg consensus estimate of INR 2,085 crore. Maruti said, higher tax expenses and finance costs affected the bottom-line. Maruti's EBITDA rose about 18% YoY, but this too was below expectations. Maruti closed in red on Friday, its share price went down by 1.82% compared to Thursday.
Reliance Industries Results: Reliance reported its Q4 FY18 results on Friday 27th April. Its Q4 revenues were 84,037 crores higher by 25.16% on YoY basis this fell short of Bloomberg consensus estimate of 89,734 crores, PAT reported was 8,697 crores higher by 6.7% on YoY basis but fell short of Bloomberg consensus estimate of 8,293 crores. The overall revenues for FY 18 were 2,90,042 crores and PAT 33,612 crores which rose by 19.84% on YoY basis and PAT by 7%.
Events in the week:
Monday 30th April – Data on Fiscal Deficit (Mar18); China's Manufacturing PMI (Apr28) ; US data on pending Homes Sales (Mar18)
Tuesday 01 May – US data on ISM Manufacturing PMI (Apr18)
Wednesday 02 May – China Caixin Manufacturing PMI (Apr28); US Crude oil inventories; US Fed interest rate decision
Thursday 03 May – US ISM Non-manufacturing PMI (Apr18)
Friday 04 May – US Non-farm payroll (Apr18); US unemployment rate (Apr18)
The result season has begun.
The result calendar
- Monday: HDFC, Kotak Mahindra Bank
- Tuesday: Dabur India
- Wednesday: HCL; Hero Moto; Indigo
- Thursday: Adani Port; Vedanta
- Friday: Ambuja Cement
Trading Ideas: Based on technical analysis, we recommend the following trades for the week:
HCL Tech: BUY@ 1022.9; Stop Loss 1010.20; Target 1060.55
SBI: BUY@ 234.45; 231.95; Target 239.45
Axis Bank: SELL@ 559.9; Stop Loss 569.6; Target 530.7

Bond market update

10-year govt bond yields rose by another 0.63% last week (5 basis points). The rise in oil prices are further building inflationary pressure on the economy and also widening the CAD and FD thus causing yields to rise.
In a move to ease short term yields, RBI has eased norms for investment in bonds by overseas investors. This move now allows overseas investors to invest in short term debt instruments which was earlier capped to 3 years. Bond market has been seen negative inflows from foreign investors since last two months. This move by RBI will help in having positive inflows in the debt market thus a possible easing of the yields and strengthening the currency to some extent due to rise in demand.