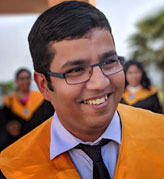 "P3 Investment Solutions" was established with a clear vision of handholding investors through their financial journey. The journey starts with understanding our customer Goals and time frame for achieving them, based on which an appropriate asset allocation plan is worked out. The Asset allocation is purely on the risk profile of our investors, And at times in to investment avenues which do not yield the company any benefit. The suggestions are considering the tax implications off course. Our core belief is to suggest clients what benefits and is suitable for them and not what is beneficial for us. This is then followed by the most important part, which is monitoring these investments in line with their requirements. We work out of the way to service our clients and get them the products and services they need at their table.
"We believe Technology is the key in the business and we are making a point to be at par with this."
"Finally to close, I would urge all our young generation to get in to saving mode and start saving some portion of their monthly income, then follow this by investing their savings in right direction for better returns. "
"P3 Investment Solutions is a financial clinic for all financial needs. We value your money like we value ours, come and invest with us.
"
P3 Investment Solutions is a Financial services firm established on August 2017 by Mr. Prathamesh Pai Bir. Our founder is a Mechanical Engineer having worked for 10 Years in various verticals from Maintenance-Projects-Corporate Planning-Cost Reduction for the complete business-Procurement of Imports etc, he also pursued his PGDM-Part time in the area of Finance securing a GOLD MEDAL from Goa Institute of Management, with specialization mainly in the area of Securities market, Valuations, Portfolio management, Working capital management and Income tax planning. Our founder is authorized Association of Mutual Funds in India (AMFI) to distribute mutual funds and by Insurance Regulatory and Development Authority (IRDA) for selling General, Health and Life insurance. Our founder has also successfully cleared the examinations of investment advisor and retirement advisor as outlined by the regulatory authorities.
Our founder has been working on Investments and Portfolio management since last 9 years through management of his personal portfolio and this experience coupled with a strong education background in the area of finance made him to start this entrepreneurship venture with a prime focus to handhold fellow investors in their financial journey and guide them in the right direction. In todays world mis-selling of financial products are on the rise and individual investors are lured into investing in products that do not suit their profile and risk. Such investing results in investors not achieving their planned goals and thus not achieving the financial independence they seek to achieve. Hence the purpose of venturing into this business was to help investors move on the right path based on the risk they can digest, the timeframe and goals they want to achieve. Our firms core objective is to deliver customer centric services and support its customers throughout the financial journey. Planning of one's investments and investing in the right investment avenues are key to achieve financial independence at an early age, and this is what we want our customers to achieve. We at P3 Investment Solutions provide an array of financial services all at one place as we believe in reducing the hassles for our clients of moving from one place to another for various financial services. We are a firm believer of technology and strive to use it in our business, keeping this view in mind we provide various transaction platforms and portfolio management platforms for our clients.
Our firm offers wide rage of products and services ranging for goal planning to investing (equity and debt) to tax planning, and not to forget Insurance which is also part of our portfolio. For direct equity and debt investment we have partnered with ICICI securities and Sharekhan, we assist in opening demat accounts through our franchise partners and then handhold them in investment decision in direct equity. For mutual funds our firm is empanelled with 70% of the fund houses available in the industry as on date, an our target is to cover all of them so as to provide our clients a wide range of choice available at their finger tips. For Insurance we have tied with the best insurance houses to provide safety on their risk cover. We also offer sovereign gold bonds.
Our Array of Products and Services include:
Products:
Stocks
Mutual fund Investments
Bonds/ Corporate FDs (through franchise partners)
General Insurance
Health Insurance
Life Insurance
NPS (through franchise partners)
Sovereign gold bonds
Services:
Preparing Financial health Report
Goal and Investment Planning
Stock Valuations for Investment
Income Tax Planning and Filing ITR
Investor Awareness Trainings
Opening of Demat Account
eKYC Facility, Paperless Transaction and Real-Time Portfolio Viewing
Click here to download company brochure
Our Vision
"To be the most trusted investment company across the country."
Our Mission
"To assist and handhold the client in achieving their financial goals. We believe in building trust and happy lives."