Click here to download P3 Financial Bulletin
Weekly Market Forecast: 4th – 10th June 2018

Last week Indian markets were volatile through the week but ended in green. The NIFTY closed at 10696.20 (10605. 15 last week) up by 0.86%. BANK NIFTY also showed volatility and closed at 26692.80 (26273.55 last week) up a stronger 1.60%. Both BSE Midcap and Small cap were volatile too, Midcap Index closed in red at 15851.51 (15904.41 last week) and Small cap closed at 16978.96 (17151.43 last week) down by 0.33% and 1.01% respectively.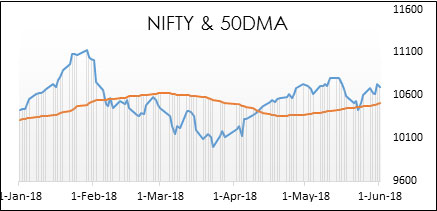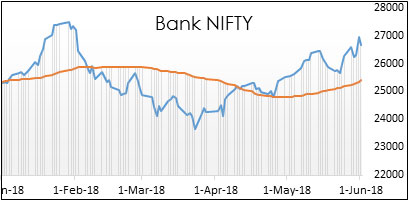 The broader market's trend continues to be bullish on a monthly basis. In the coming week, market movement will be guided by events. The Q4 result period is almost over. In the next phase, look forward to annual results and annual reports.
The US bourses closed down for the week. Dow closed at 24635.21 (24753.09 last week) down 0.48% for the week. Both S&P 500 and NASDAQ followed the movement of Dow.
Strong correction was seen in both Gold and Silver prices. MCX Gold Mini futures closed at 30568 (31190), down 2.00%, MCX Silver Mini futures closed at 39572 (40324) down 1.86%.
Crude oil corrected further in addition to a sharp drop last week. MCX Crude oil futures closed at 4419 (4604) down 4.02%.
This week, Indian Rupee gained as USD corrected further. USD/INR closed at 67.4100 against last week's 67.8800. USD was down by 0.69%.
L&T : posted a nearly 5 per cent rise in fourth-quarter net profit on Monday, beating analysts' estimates, mainly on higher order intake during the period. Net profit rose to INR 3,167 crore in the three months ended March 31 from INR 3,025 crore a year earlier. Revenue from operations jumped 10.5 per cent to Rs 40,678 crore. L&T's order intake rose 5 per cent to Rs 49,557 crore in the quarter. Good results pushed its stock prices by more than 6% post Monday's results. L&T closed at 1372.4 on Friday.

Events in the week:
Tuesday 05 Jun – China Caixin Services PMI (May); US ISM Non-manufacturing PMI, JOLTs Job Opening (Apr)
Wednesday 06 Jun – India Interest Rate Decision; US Non-farm Productivity, Crude oil Inventories
Thursday 08 Jun – China Exports & Imports, Trade Balance; US Oil Rig Count
Friday 09 Jun – China CPI Data
Trading Ideas: Based on technical analysis, we recommend the following trades for the week:
1. NIFTY: Buy @ 10683.50; Stop Loss 10668.10; Target 10714.55
2. NIFTYBANK: Buy @ 26556.15; Stop Loss 26488.30; Target 26690.85
3. Godrej Consumer: Buy @ 1146.9; Stop Loss 1134.65; Target 1171.45

Last week's Technical Call:
1. Biocon: Buy @ 651.85; Stop Loss 648.05; Target 695.45…Stop loss triggered
2. Bharat Forge: Sell @ 681.9; Stop Loss 689.45, Target 666.8…did not reach the price level

Credit- Dr Amiya Sahu

Bond market update

Bond yields rose by about 5 basis points (up by 0.69%) during the week closing at 7.848%. The rise is mainly on account of accelerating economic growth and rise in crude oil prices which has increased the probability of a possible rate hike by the RBI. Also, there has selling by the FII even when the GDP numbers have been strong. The depreciation in the currency and rising yields have been a matter of concern for the FII. RBI is scheduled to have its next policy meeting on 6th of June.