Click here to download P3 Financial Bulletin
Weekly Market Forecast: 23d July – 29th July 2018 The Indians market was volatile for the week and closed flat after a strong positive move last week. The NIFTY closed at 11020.20 (11018.9 last week). The BANK NIFTY, however, closed weaker at 26873.20 (26935.95 last week) and lost 0.23%. Both BSE Midcap and Smallcap also closed in red. Midcap Index closed at 15170.14 (15431.47 last week) and BSE Smallcap index closed at 15683.40 (16196.33 last week).
The bullish trend continues of the broader market on a monthly basis. The market direction will continue to be driven by the first quarter results of Indian companies as the performance manufacturing sector is expected to be weak. A watch on Indian data and global events is also crucial. On the technical chart, NIFTY's flat closing is pointing towards a change in direction.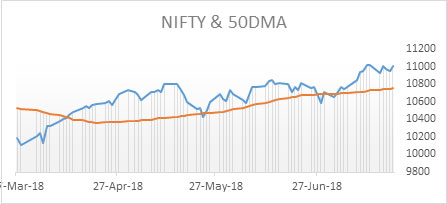 The US bourses also ended flat for the week, after a strong bullish move last week. Dow Jones Industrial Average (DOW) closed at level 25058.12 (25019.41 last week). Both S&P 500 and NASDAQ followed Dow and closed at 2801.83 (2801.31 last week) and 7820.20 (7825.98 last week) respectively.
Both Gold and silver prices continued to trade lower. MCX Gold Mini futures closed at 29,950 (30,150 last week), down by 0.66%. MCX Silver Mini futures closed weaker than gold at 38,442 (39,090 last week), down by 1.66%.
Crude oil continued its downward movement from where it left last week. MCX Crude oil futures closed at 4713 (4907 last week) down by a strong 3.95%.
The Indian Rupee depreciated again for the week. USD/INR closed lower at 68.7450 compared to last week's close of 68.4950.
Events in the week:
Monday 23 Jul –US data on Existing Home Sales
Tuesday 24 Jul – US Manufacturing PMI, Services PMI
Wednesday 25 Jul –US data on New Home sales, Crude oil inventories
Thursday 26 Jul – US data on Durable Goods order, Goods Trade Balance, Initial Job loss claims
Friday 27 Jul –India data on Forex reserves, USD data on GDP, Michigan Consumer expectations
Trading Ideas: Based on technical analysis, we recommend the following trades for the week:
1. Godrej Consumer: Buy @ 1263.20; StopLoss 1248.85; Target 1292.05
2. Infosys: Buy @ 1321.30; StopLoss 1313.20; Target 1337.35
3. Motherson Sumi: Sell @ 308.9; StopLoss 313.85; Target 294.05

Last week's Technical Call:
1. UPL: Sell @ 577.25; StopLoss 586.40; Target 558.85…..Price level did not reach
2. Axis Bank: Buy @ 515.35; Stoploss 511.25; Target 523.55….. Price level did not reach

Credit- Dr Amiya Sahu

Bond market update


Bond yields remained flat for this week, it moved lower by less than 1 basis points (down by 0.08 %) during the week closing at 7.785%.
RBI on Thursday (19th July) purchased bonds worth 100 billion rupees through open market operation (OMO). OMO operation will help in easing out bond yields.