Click here to download P3 Financial Bulletin
Weekly Market Forecast: 24th December to 30th December The Indians market ended in red for the week. The NIFTY, closed at 10,754.00 (10,805.45 last week) down 0.47%. The BANK NIFTY, closed with a small gain for the week at 26,869.65 (26,826 last week), up by 0.16% for the week. Both BSE Midcap and BSE Smallcap closed in green. Midcap Index closed at 15,253 (15,182.84 last week) with a gain of 0.46%. BSE Smallcap index closed at 14,633.62 (14,501.76 last week) stronger by 0.91%.
Markets last week see-sawed again around interest rate hike by the US Fed. US markets weakened by about 7-8%. US markets trends have turned negative or bearish on monthly and weekly basis. However, Indian market is still in bullish trend on monthly basis. We also have support from weaker crude prices and stronger rupee. Since this week is curtailed by Christmas holidays, we expect the market to remain sideways.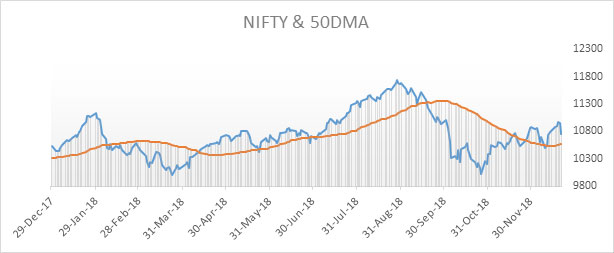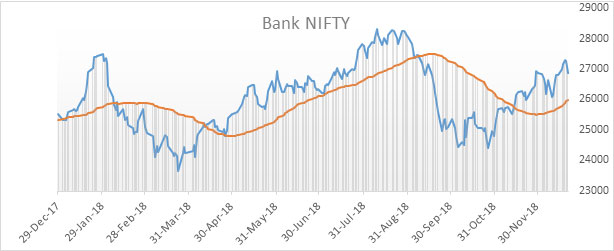 The US bourses extended bearish move and made deep cuts in the week following strong negative moves on Friday of last week. Dow Jones Industrial Average (DOW) closed at 22,445.37 (24,100.51 last week) weaker by 6.87%. S&P 500 closed at 2416.63 (2599.85 last week) down by 7.05%. NASDAQ too closed in red at 6333.00 (6910.67 last week) weaker by 8.35%.
The shiny metals made ended flat after last week's strong bullish moves. MCX Gold Mini Futures closed at 31,090 (31,416 last week) down 1.04%. MCX Silver Mini Futures closed at 37,315 (38,077 last week) down 2.00%.
Crude oil prices extended bearish trend. MCX Crude oil Jan 2019. Futures closed strong negative at 3243 (3684 last week) down by 11.97%.
The Indian Rupee made gains after two weeks of weak moves. USD/INR closed on Friday at 70.1500 compared to last week's close of 71.9000.

Events in the week:
Monday 24 Dec – US holiday
Tuesday 25 Dec – Holiday
Wednesday 26 Dec – India data on Money supply; US data on Current account, Existing home sales,
Thursday 27 Dec – US data on New home sales, CG consumer confidence
Friday 28 Dec – India data on forex reserves; US data trade balance, Pending home sales, Crude oil inventories
Trading Ideas: Based on technical analysis, we recommend the following trades for the week:
1. Havells: buy @ 670.45; StopLoss 657.10; Target 697.85

Performance of Last week's Technical Call:
1. BPCL: Sell @ 369.15; StopLoss 384.90; Target 337.55…trade is open
2. Yes bank: Sell @ 186.90; StopLoss 190.75; Target 179.20…trade is open
Weekly Top Gainers/ Losers (NIFTY)
Top Gainers
Top Losers
Name of Company
Weekly Return
Name of Company
Weekly Return
Hind petro
10.01%
Zee ent
- 8.51%
Bharat petro
8.50%
Infosys
- 8.48%
Power grid
6.03%
TCS
- 4.72%
Tata motors
5.57%
UPL
- 3.81%
Jsw steel
5.08%
Grasim
- 3.64%

Credit- Dr Amiya Sahu

Bond market update

Bond yields have cooled off by approx. 90 basis points since its peak in September, last week the yields fell by a good 16 basis points (down by 2.22 %) closing at 7.276%.
The bond yields have been cooling due to the falling crude which has now touched $ 50 a barrel, and due to the OMO operations conducted by RBI. The announcement of buying out securities of another Rs 10,000 Crore in Dec-18 and Rs 50,000 Crore in the month of Jan-19 triggered the further fall in the yields further thus bringing it to the approx. 7.2% mark.